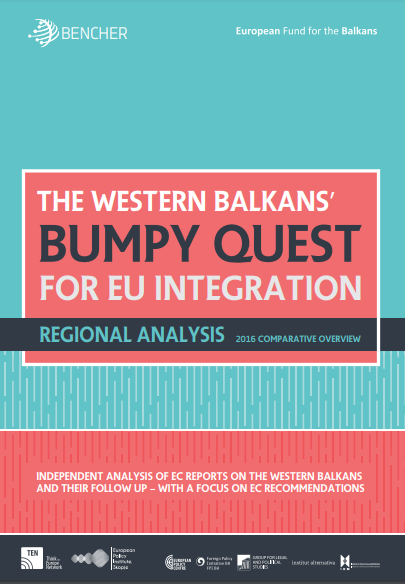 In 2016 the TEN network provided a structured, comprehensive and objective analysis of the European Commission country reports for the first time for all the Western Balkan countries, which enabled the comparison of the grading system and EC assessment of all the accession criteria/chapters of the country reports. Building upon this effort, one of the aims of the BENCHER Project is to deepen this analysis further, providing a more critical review of the EC assessments, based on the lessons learned. Furthermore, this year's analysis dedicates a special focus to the recommendations provided by the EC in the 2015 and 2016 country reports, assessing the degree to which they were considered and implemented by each country. In addition, we have provided a critical note from a CSO's standpoint as watchdogs of both the governments and the EU institutions.
With this analysis we aim to provide recommendations to the EU, for improving the monitoring mechanisms.
Other publications made within BENCHER Project can be found here.
You can access the contents of the publication below:
Infographic

The contributors to the regional analysis are:
Regional Analysis
Regional-Analasis-edit-21.12

Albania
C.A-Albania

Macedonia
C.A-Macedonia

C.A-Serbia

Montenegro
C.A.-Montenegro

Bosnia and Herzegovina
C.A-BiH

Kosovo
C.A-Kosovo