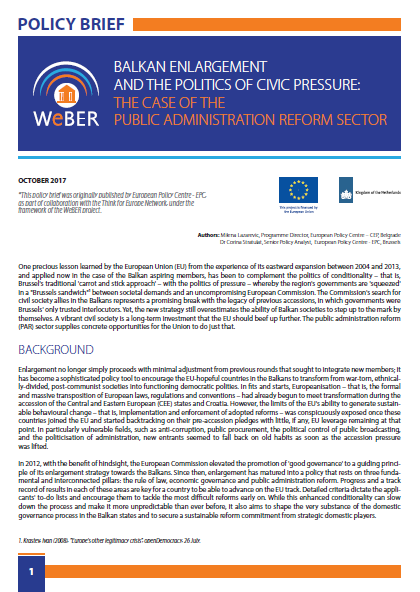 One of the lessons learnt from previous enlargement waves is the need to complement the politics of conditionality – that is, Brussel's traditional 'carrot and stick approach' – with the politics of pressure – whereby the governments in the Balkan countries are 'squeezed' between civil society demands and an uncompromising European Commission.
In this Policy Brief, Milena Lazarevic and Corina Stratulat review the origins of civil society involvement in the public sector reforms leading to a country's accession to the European Union. The search for civil society allies represents a promising break with the legacy of previous accessions in which governments were the Commission's only trusted interlocutors. To avoid (or at least mitigate) the possibility of backsliding on reforms as it occurred in a number of Central Eastern European countries after their EU entry, the Commission is wisely investing now into the politics of bottom-up pressure for the Balkan aspirants.
The authors also draw lessons from recent steps taken to ensure a more transparent, formal and structured dialogue with civil society in all the countries of the region, and to boost the skills, knowledge and know-how of civil society organisations in the PAR area.
To that end, they recommend that, for each Balkan aspirant, the European Commission should:
Agree with the lead PAR authority on a uniform practice of publishing the agenda and minutes of each PAR Special Groups (PAR SG) meeting.

Decide on a common, structured approach to the organisation of preparatory consultations with civil society ahead of each PAR SG meeting.

Recommend that the government make all reports produced during the PAR process publicly available (both those produced by the EU's missions/experts and those prepared by national institutions) to increase accountability and stimulate domestic policy debates.
This policy brief was originally published by European Policy Centre – EPC, as part of collaboration with the Think for Europe Network, under the framework of the WeBER project.
WeBER-policy-brief_brussels