15 March 2023 – Today, a kick-off meeting of WeBER 3.0 – Western Balkan Enablers for Reforming Public Administrations project was held, marking the beginning of three and a half-long initiative that the TEN will implement(European Policy Centre – CEP Belgrade, European Policy Institute – EPI Skopje, Institute for Democracy and Mediation – IDM Tirana, Insititute Alternative – IA Podgorica, Group for Legal and Political Studies – GLPS Pristina, Foreign Policy Initiative – FPI Sarajevo) coordinated by the European Policy Centre – CEP Belgrade, and in partnership with the EU-level partner, Centre for Public Administration Research – KDZ from Vienna.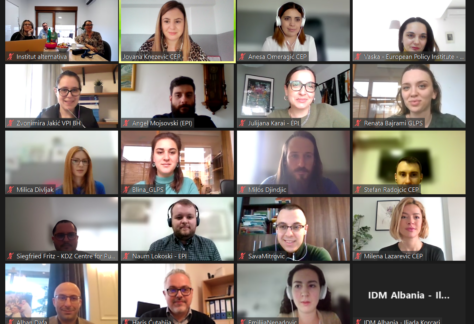 Milena Lazarevic, Team Leader of the WeBER 3.0 initiative, opened the kick-off meeting by greeting participants and reflecting back on the experience gathered during previous projects. Jovana Knezevic, Project Manager, then presented project roles and responsibilities & project timeline to the partners, as well as the process of monitoring project implementation and reporting. Lead Researcher, Milos Djindjic, presented research and analytical activities, and Anesa Omeragic, Communication Coordinator, talked about the visibility and communication activities of the project. Participants discussed key priorities for the project and how it will strengthen the role of civil society in monitoring and evaluating public services, promoting citizen participation in decision-making, and improving the efficiency and effectiveness of government institutions.
The implementation of the third phase of the WeBER initiative is, as has been the case with the previous two (WeBER 2015 – 2018 & WeBER 2.0 2019 – 2023), principally financed by the European Commission.